IDRR Social Scientist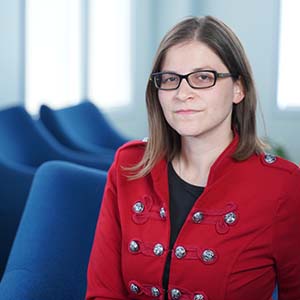 Associate Professor, Legal StudiesFaculty of Social Science and HumanitiesOntario Tech UniversityORCID ID:
https://orcid.org/0000-0003-0545-3941
jen.rinaldi@ontariotechu.ca
Dr. Jen Rinaldi is an Associate Professor in Legal Studies in the FSSH at Ontario Tech University. Her research focuses on how non-normative bodies are read, marked, and produced in and through socio-legal discourse. She is committed to communities and embodiments that claim the following identifiers: cripped (or disabled, and especially persons deemed intellectually disabled), mad (persons positioned against and within mental health regimes), fat (bodies framed as obese and discriminated against in the interest of public health), queer and trans (persons who identify as members of LGBTQ+ communities). She is a dedicated member of the Recounting Huronia research collective. This work earned the collective a Community Living Ontario James Montgomerie Community Award in recognition of leadership and innovation in furthering Community Living goals. Rinaldi has co-written a book titled Institutional Violence and Disability: Punishing Conditions (Routledge, 2019). She was also the founder and lead coordinator of the Huronia Survivors Speakers Bureau, which enabled intellectually disabled institutional survivors to tell their stories to audiences across Canada. Currently, Dr. Rinaldi is focused on research and activism related to deinstitutionalization, prison and police abolition, and migrant justice.
View Jen Rinaldi's Faculty of Social Science and Humanities profile page.